Botox, fillers, and skin treatments.
Will you soon be treated with Botox or fillers? Or are you considering having this done? In this brochure, you can find all the information you need to make a well-informed decision. If you have any questions after reading this brochure, please check our website for more information on any specific treatments or contact us. Experiences may differ depending on the clinic and treatment.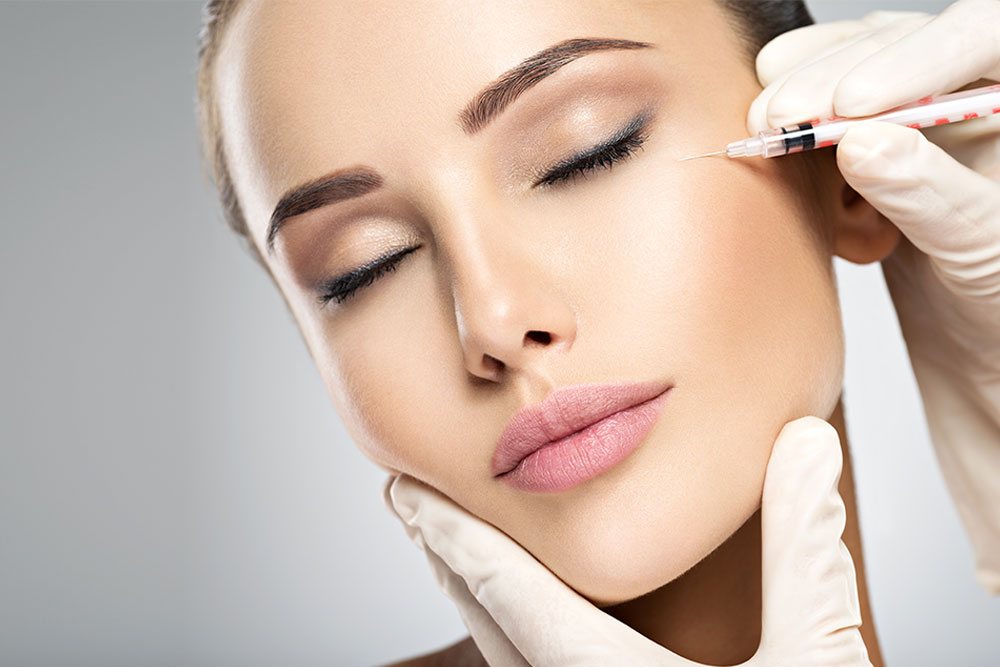 Most people who want to look beautiful and attractive have extra wishes. Why should you look in the mirror and be unhappy with certain aspects of your face? You can choose to accentuate what you find beautiful or correct something you do not like as much. The face is often the first impression you have of someone. We, at House of Bratz, understand this better than anyone and can help you make your dream look a reality, with just a few simple cosmetic treatments. This will help you feel comfortable in your skin and therefore allow you to radiate more self-confidence. We believe that you should give yourself what you deserve!
House of Bratz is a clinic for cosmetic treatments. These are performed by specialised, BIG-registered doctors who follow strict protocols. House of Bratz provides cosmetic facial treatments. In addition, we treat people who suffer from teeth grinding, migraines and excessive sweating. The treatments we perform are:
Botox treatment
Filler treatment
Skin treatment
PDO thread lift treatment
The clinic has various treatment rooms that comply with all legal guidelines in the field of medical applications and hygiene. House of Bratz is located in Rotterdam and Amsterdam. Both locations are easily accessible by public transport, road, and water. There is also ample parking. You can also find us in Dubai and in Belgium, Antwerp.
House of Bratz provides aesthetic improvements to your appearance based on your wishes and based on the possibilities your skin offers. Your expectations are clearly discussed during the personal consultation with our doctors. We strive for optimal results. This always depends on the reaction of your skin. Our specialists speak and act from experience. They give honest advice and provide a realistic presentation.
The cosmetic treatments that House of Bratz mainly perform are aimed at aesthetic improvements, such as:
Correcting wrinkles and folds
Filling the lips
Shaping and modelling the contours of your face
Hydrating and making your skin fuller and younger
Improving the firmness and elasticity of your skin.
House of Bratz provides treatments with Botox, fillers, and skin boosters (skin improvement). Botox and fillers are also called injectables. In our clinic we only use A-brand injectables such as Stylage, Restylane and Azzalure.
Injectables
Injectables are substances that are applied under the skin with a small needle or with a cannula (a blunt needle, without a point). Using a cannula reduces the risk of bruising. Most treatments usually take between 10 and 30 minutes. The length of time depends on the size of the area treated.
Botox treatment
If you want to get rid of wrinkles, you can have Botox injected. Botox is an abbreviation for botulinum toxin, a protein made by a bacterium that blocks the transmission of nerve impulses to muscles. During the treatment with Botox, you will be pricked with very thin needles in the specific muscles. The facial muscles in the injected area will relax within 2 weeks and then show little to no activity. The treatment makes your skin look smoother.
Botox is completely degradable by the body and wears off after a few months. If desired, it can then be injected again. Botulinum toxin also blocks the action of the nerves of the sweat glands, making you sweat less. The result lasts for about 3 to 4 months. Read more on www.houseofbratz.nl about the various Botox treatments.
Filler treatment
Fillers are used to add volume. They are very effective for reducing or making small to medium wrinkles disappear, but they are also very suitable for enlarging or strengthening the lips, replenishing volume under the eyes, and improving facial contours. With every treatment, we only work with safe and high-quality fillers from the Stylage brand. The result lasts for about 6 to 12 months. Read more on www.houseofbratz.nl about the various filler treatments.
The difference between these injectables
Botox and fillers are both injectables but have different effects on the face. The most significant difference is that fillers fill up, while Botox causes muscles to relax. As a result, no more folds are drawn in the skin and wrinkles fade or disappear. Fillers are most effective for filling in depths, such as bags around the eyes. With fillers, you can also accentuate your cheekbones nicely.
Skin treatment
House of Bratz performs effective skin treatments based on the Restylane Vital Skin booster. This treatment with a special injectable gives a brilliant result when skin rejuvenation, firming or hydration is desired. As we age, our skin loses elasticity and starts to feel drier and more irregular. The Skin booster Restylane Vital improves the moisture content, refines the structure, and restores the elasticity of the skin. The liquid to be injected is based on biodegradable hyaluronic acid and is available in different variants. The skin booster works best if it is repeated 3x after 4-6 weeks, after which the result lasts for about 6 to 12 months. Read more about skin treatments at www.houseofbratz.nl.
PDO thread lift treatment
PDO thread lift is a new way of treating wrinkles and sagging skin in aesthetic medicine. The soluble threads used in the procedure provide subtle stimulation of the skin and, in contrast to fillers, they mainly provide a more targeted lift of the skin. By combining PDO-Thread lift with fillers and Botox, even better results can be delivered without using the scalpel.
A PDO thread (wire) is inserted under the skin with a cannula in the area to be treated. After this, the needle is removed, leaving the thread under the skin. The wire is not visible. The PDO threads stimulate the production of natural collagen and are completely biodegradable by the body. They dissolve within 8 months. The result lasts for about 8 to 18 months. Read more about PDO thread lift at www.houseofbratz.nl.
Step-by-step plan
If you want to have a (cosmetic) treatment performed by House of Bratz and you need further information, read more on our website. If you still have questions, you can email us or contact us by phone. You can also make an appointment yourself via our online appointment planner. You will then receive an appointment confirmation and this information folder with additional information about House of Bratz and the treatments.
Intake
The procedure starts with a free intake consultation. During this consultation, you will meet the doctor who will be treating you. You discuss what you expect from your treatment. The doctor assesses the condition of your skin and your health. Everything is discussed so that you come to a good decision. You will also hear what alternatives there are and what the treatment costs are.
Forms
Before the treatment, you will receive an anamnesis form (health statement) that you must complete. You will also receive the treatment agreement to read in advance. If necessary, the assistant will help you with filling in the answers. If you need any clarification about the form, our assistant will be happy to help you. Photos are also taken before and after the treatment. The attending doctor will then read through the anamnesis form you have completed. This determines whether you are suitable for medical aesthetic treatment with injectables. During this meeting, the treatment agreement will also be discussed with you. This is a form that lists the treatment and the products we use, including possible side effects and complications. This ties back to our value: transparency.
Step 3. Therapy
Before the treatment, a numbing cream is applied to the area that we will treat. Always make sure to be present at least 10 minutes before your appointment. This allows the numbing cream to take effect. While the numbing cream is taking effect, the consultation can take place. You can be treated immediately after the consultation. If you wish, you can also make a follow-up appointment for another time. The length of time depends on the treatment. A frown line Botox treatment tends to take less time than, for example, a liquid nose job filler treatment. Take a look at the treatments listed on our website to get an indication of time for every treatment.
Step 4. Follow-up
Depending on your treatment, results may be immediate, visible, or not. As for Botox treatments, the result will not immediately be visible. Botox needs 2 weeks to fully take effect, unlike fillers. After a filler treatment, you will immediately see a difference. It is very important to realise that the treated area will be swollen. Furthermore, the area may turn red or blue and feel sore. Don't worry, this is perfectly normal! These side effects will disappear in the following days. After the treatment, and after photo is taken and the aftercare instructions are explained. The photos and aftercare instructions will be emailed to you after your treatment.
Both Botox treatment results and filler treatment results will be best after 2 weeks. Most of our clients are perfectly happy with their results and go on with their lives. Some first-time clients like to come in for a follow-up after 2 weeks so that our specialists can assess the results of the treatment. First-timer or not, we are always happy to welcome our clients for follow-ups, consultations, and treatments, so don't hesitate to book an appointment.
Please bring valid proof of identity and, if applicable, your medication list. If you cannot show valid proof of identity, the appointment cannot take place.
Please arrive at least 15 minutes before your appointment for the intake.
Location Amsterdam is pin only.
Location Rotterdam PIN and cash payment possible.
It is allowed to bring 1 person to your appointment.
It is not allowed to bring children or pets to our clinic.
In case of no-show or cancellation within 48 hours, we will charge 10% of the treatment costs. For more information, see our house rules.
Choose the BIG-registered doctors of House of Bratz